February 18th, 2021
MovieStarPlanet supports book about healthy gaming habits!
Helping parents to navigate the world of gaming is of great importance to us at MovieStarPlanet, so supporting journalist Andy Robertson with his book "Taming Gaming" was an easy decision.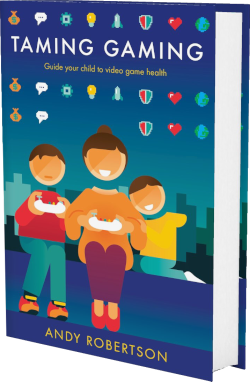 The book provides parents practical advice and insights so games can be less of a worry and start being a connecting experience families can share. Andy combines his own experiences as a father of 3, and as a journalist covering this topic for several years, with the latest research from psychologists, industry experts, and children charities.
"It was crucial to have help of MovieStarPlanet and our other supporters. It's an ambitious project, and wouldn't exist in so full a form without their help. Many parents have already been telling me how they have more confidence to guide their children's gaming." Andy Robertson Taming Gaming http://www.taminggaming.com
MovieStarPlanet is part of the recipe section, where Andy provides some insights and practical information about various games.
The book is now available in stores. We hope it will be an inspiration for many families.