October 28th, 2021
MovieStarPlanet presenting for the UK Parliament
MovieStarPlanet takes part in the APPG for Video Games & Esports Games and Online Safety for young players in the UK
Due to homeschooling and lock-downs during the Covid-19 pandemic, playing online games have been incredibly popular among kids in most age groups. With the draft Online Safety Bill in the UK having been undergoing pre-legislative scrutiny, there is a concern whether the frequency and severity of harms to young players have equally increased. With this in mind, the APPG, All-Party Parliamentary Group, for Video Games and Esports met to uncover what the level of risks are and how they have been dealt with by the online games producers. The MovieStarPlanet Head of Safety and Support, Vernon Jones, was one of the speakers invited to unfold and debate this important topic.
MovieStarPlanet presenting for the UK parliament
Having been part of the National Crime Agency Games Sector Group Roundtable on Safeguarding Children for over three years, MovieStarPlanet has been invited to speak to the All-Party Parliamentary Group for Video Games and Esports meeting on online safety, about how it tackles the challenges of safeguarding children online. The meeting will hear that this complex task is achieved by using a combination of Automated Intelligence and trained human moderators to safeguard children. A further discussion point is how the Online Safety Bill can assist the games industry in handling these issues.
"It is always an honour to speak to the legislative parliament members and guide them on the important work we do to safeguard children on an everyday basis", says Head of Safety and Support Vernon Jones, who will be presenting at the online event on Oct.21st, 2021.
If you want to learn more about the work we do on online safety, Vernon Jones, has shared some of the principles he and his team works with in relation to online child safeguarding.
The commitment to Online Trust and Safety
The safety of children who interact with the games produced by MovieStarPlanet, is of paramount concern to everyone employed at the company. There are numerous safeguarding measures and resources in place that ensure the games offer a safe and fun environment, where children can explore the creative and fun world that the games provide. This strategy is incorporated within a commitment to comply with governmental legislation and self regulatory industry standards, in relation to Trust and Safety issues.
Child Safeguarding Commitment
MovieStarPlanet is committed to making the online community a safe and fun environment for all children who engage with the games that we produce. We continuously aim to reduce, or where possible eliminate inappropriate behaviour and content. Our goal is to deal with child safeguarding concerns in a professional manner by having appropriate moderation and child safeguarding measures in place.
At MovieStarPlanet, there is a trained and dedicated team of Moderators and Support Managers who assess online content, implement safety measures and provide online support to children using the games. All moderators undergo a comprehensive induction course. They have also received specialised training in relation to online grooming, conflict resolution, cyber bullying and other online safety issues, from the dedicated Safety Team. Training has also been held in cooperation with Save the Children Denmark and other experts who specialise in online child safeguarding training.
Online Child Safeguarding is Based on Five Core Pillars: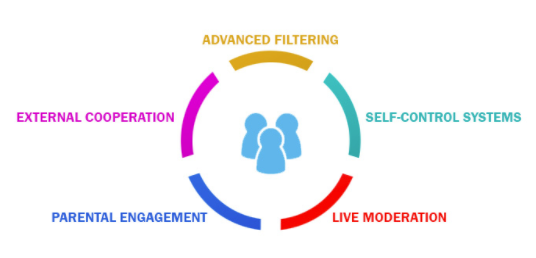 Together these pillars form an intricate, holistic security system that ensures the best possible child safeguarding system and appropriate social networking experience.
To oversee these measures I am employed as the dedicated Head of Safety and Support. My role at the company is to oversee all aspects of online Safety, Customer Support and Trust issues. As a Registered Social Worker in the UK, and a member of the Danish Association of Social Workers I have over 25 years' experience in working internationally with frontline child protection and online child safeguarding issues. This includes working within the online child protection team at Save the Children Denmark and several statutory Social Service Departments in Denmark and the UK.
Professionally Moderating Online Games – Advanced filtering
To ensure the language used throughout the games is appropriate for children, we use a combination of AI (Artificial Intelligence) automated content management systems and live moderation by trained Moderators. We believe this offers a comprehensive, pedagogical approach to monitoring chat rooms and ensures that age appropriate standards are maintained. It also allows children to express themselves in a safe and appropriate online environment, which is also important for children who play online games.
At MovieStarPlanet, we constantly review our child safeguarding measures and do not hesitate to implement new technologies that will further improve child safeguarding mechanisms. A commitment to Safety by Design principals is fundamental to making the games safe from the design to the implementation phase of game development.
Two Hat Community Sift Artificial Intelligence System – Advanced filtering
MovieStarPlanet has introduced the Two Hats Community Sift into its online moderation, word filtering and child safeguarding processes. Community Sift is a comprehensive set of chat filtering tools that works to enhance our already comprehensive child safeguarding measures. The system considers all common avoidance techniques such as 133t speak and phonetic replacements as well as false positive detection (Scunthorpe). The introduction of Community Sift has fundamentally changed and improved the way we detect and deal with inappropriate language and behaviour.
User Reporting and Feedback – Self- control systems
MovieStarPlanet encourages users to report inappropriate behaviour through the user-based report form, as well as through email support and forums. These reports are especially important in highlighting unusual and newly discovered methods being used to circumvent the automatic filtering systems which can then be adjusted accordingly. We actively encourage parent and user engagement to help keep the site safe by reporting problematic behaviour to our trained Support Team.
Monitoring Chat Rooms – Live moderation
The Moderators are trained employees, with real knowledge about the issues and challenges involved in safeguarding children within an online games community. The Moderators and Support Managers receive specific training and supervision in relation to the complex task of monitoring online activity from qualified experts working with online child protection issues.
The monitoring of chat rooms and other content is undertaken by a combination of Artificial Intelligence (AI) systems described above, and by live Human Moderation. Due to the vast amount of generated content, the automated filter systems are employed as a first response to inappropriate language. This system alerts Moderators to inappropriate language or content so that they can systematically review and assess the chat logs. Moderators can notify the user of their inappropriate behaviour through the display of an automated message and activation of the user block for a specified time depending on the severity of the breach.
Cooperation with Law Enforcement Agencies – External cooperation
MovieStarPlanet is recognised as meeting all legislative requirements regarding implementing online child safeguarding measures in the countries where we operate. We act on any child protection concerns through direct contact with the appropriate police department or other statutory Law Enforcement Agencies in all countries where the games we produce are operational. These statutory agencies have the responsibility and authority to make inquiries and take necessary action to protect the child. We also cooperate internationally with Law Enforcement and other Child Protection agencies such as Interpol and Europol.
After comprehensive assessments in relation to child safeguarding and privacy issues, MovieStarPlanet was awarded membership to Freiwillige Selbstkontrolle Multimedia-Diensteanbieter (FSM) in Germany, and The UK Council for Child Internet Safety (UKCCIS).
In the United States, the games have been assessed as being COPPA (Children's Online Privacy Protection Act) compliant and meeting stringent safety standards by the Federal Trade Commission certified company, KidSAFE .